FAQ About Plastic Fabrication Company & Services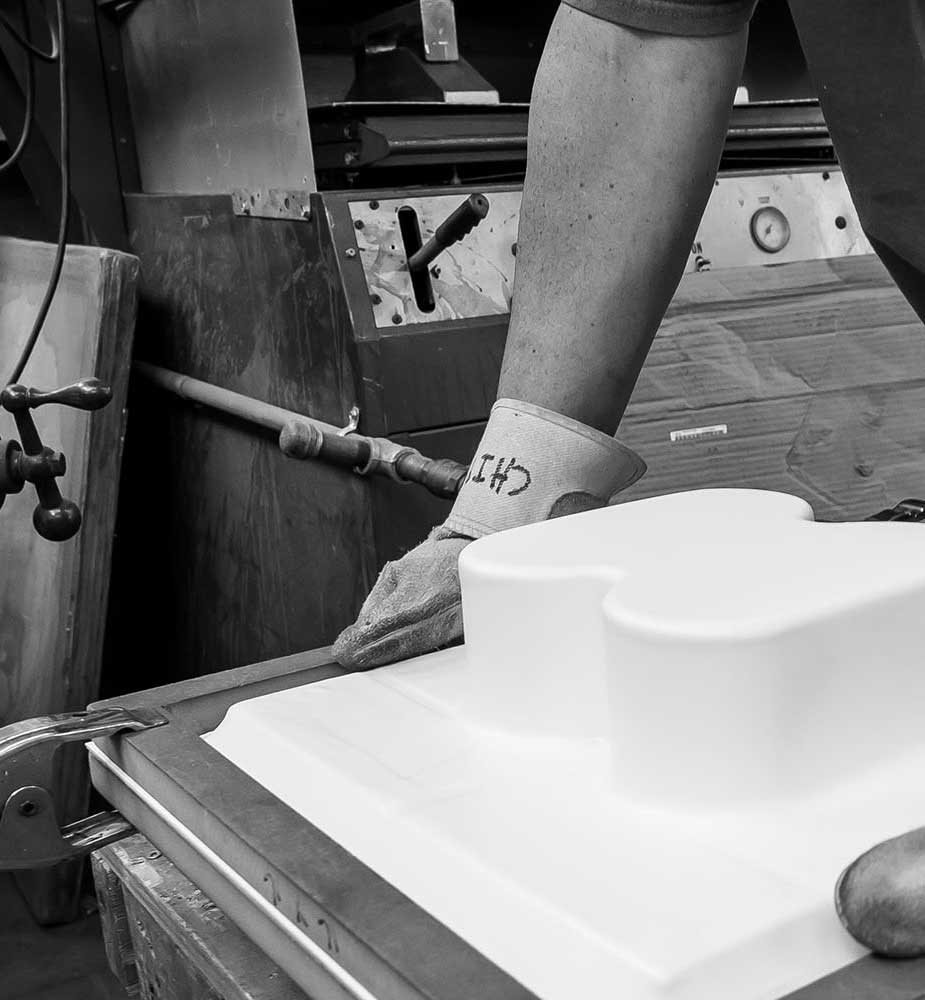 At Plastifab Inc, we create a wide variety of plastic components and products for various industries from our location in Phoenix, Arizona. Due to the circumstances of the pandemic in 2020, Plastifab Inc now produces PPE for healthcare workers, other businesses and everyday people. We now produce clear barriers such as our mobile rolling barrier as well as a free standing counter top barrier. We have also developed face shields for adults and children.
We do not manufacture raw acrylic materials, such as extruded or cast acrylic. However, we do use these materials in crafting our products.
HOW LONG HAVE YOU BEEN IN BUSINESS?
Plastifab Inc. was founded in 1969 and has become well known for our ability to form plastics and cut materials precisely and accurately.
WHAT INDUSTRIES USE PLASTIFAB SERVICES?
We serve a variety of industries including automotive, lighting, technology, consumer product, and electronics.
ARE MY PARTS MADE IN THE USA?
Yes. Our manufacturing facility is located in Phoenix AZ where we are producing parts daily.
I DON'T HAVE A 3D CAD MODEL. CAN PLASTIFAB CREATE ONE FOR ME?
Yes. If you need assistance creating a 3D CAD model of your idea, contact us via email at [email protected] or fill out our contact form  and we'll help you get started.
To get a quote for all of our services, simply email us at [email protected] or fill out our contact form. If there are problem areas in the submitted design, our sales team can provide detailed information on the potential manufacturing issues and suggests possible solutions.
WHAT ARE CNC ROUTERS USED FOR?
PRCNC router machines are capable of engraving with the help of very hard and sharp tools – engraving wood, cardboard materials, acrylics, Polycarbonate, Acrylic, PVC, Delrin, Abs, Petg, resin, plexiglass, Wood and so much more!
IS LEXAN THE SAME AS ACRYLIC?
Lexan and acrylic are two different types of plastic. Lexan is a name brand for polycarbonate. It is a more industrial and durable type of sheet. Generally Lexan is used for guards and areas that require shatter resistance. Acrylic is more refined but can break easily compared to Lexan. Most displays use acrylic because to looks nicer, glues better, and is more resistant to UV light.
WHAT TYPE OF PLASTIC DO YOU CARRY?
Plastifab has the ability to acquire almost any type of plastic materials. We have multiple suppliers and they carry most brands of material available. The most common types available will be acrylic, polycarbonate, ABS, PETG, HDPE, and PVC.
DO YOU SELL ACRYLIC SHEETS?
Yes. We are a local plastic supplier and fabricator able to offer  4′ x 8′ sheets of acrylic and polycarbonate at wholesale prices to the public. The material is in stock and we can cut to size and / or CNC route to custom shapes.
HOW SHOULD I CLEAN PLASTIC?
Never use glass cleaner! We suggest using a cleaner designated for plastics.  We sell Craftics 20/20 Cleaner on our website. It is safe on all plastics and comes in convenient 8oz bottles.
DO I NEED TO PROVIDE MY OWN MOLD FOR VACUUM FORMING?
No. If a customer needs to have a mold fabricated, most of the time we can provide that service for them. We will need drawings or a sample in order to produce a mold.
DO YOU DO INJECTION MOLDING?
Unfortunately, we are not setup for this type of manufacturing. Although, many times vacuum form tooling is used to create prototypes prior to spending the money on an injection mold. This allows the customer to find any flaws prior to full blown production. We are happy to take a look and see if this is possible with your product.
WHAT TYPE OF FILE DO I NEED TO PROVIDE?
When we are quoting a job, it is nice to have a PDF file or a basic sketch with the basic information. Once we determine the job is a good fit for Plastifab, we would like to have a dxf or dwg file. Of course any file types you can provide are helpful because we can also convert most files to our preference.
CAN YOU CUT WOOD ON YOUR CNC ROUTER?
Yes we can! Along with plastic, we are always cutting wood to make vacuum forming molds and /or custom parts for clients.